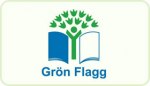 How we at Ankarsvik work with "Green flag" to be an Eco- school:
During the past year we worked with the programme to becom an eco school and recieve our "Green flag". You can read more about it on the FEE homepage.
We have av students council that we call the enviroment council. Two students from each class represents the rest of the school. After every meeting they come back to the class with a task for everyone to accomplish together. For example finding out how we can reduce our water usage in our homes.